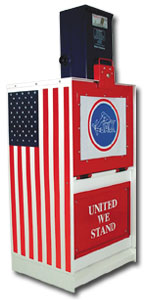 This web site was created for you, the newspaper industry to view a selection of K-JACK's line of newspaper vending equipment. K-JACK has a variety of products to offer, dedicated to the newspaper industry.

For a listing of our products please view the product listing page or contact us directly, at K-JACK's Corporate Headquarters, phone 310.327.8389.
K-JACK Engineering Co., Inc.®
P. O. Box 2320
1522 W. 134th Street
Gardena, California 90249-5225
Phone 310.327.8389
Sales & Service
800.77K.JACK
800.775.5225
Fax 310.769.6997

Servicing the entire USA, Canada, South America, Asian and European Markets.
We cover your territory.